Rubber Manufacturing Processes
Metal insert preparation:aluminum, iron, steel, brass.

Preparation.
Washing.
The inserts are placed in a degreasing tank and washed with organic solvents in the vapor phase or liquid phase depending on the type of material and by further processing.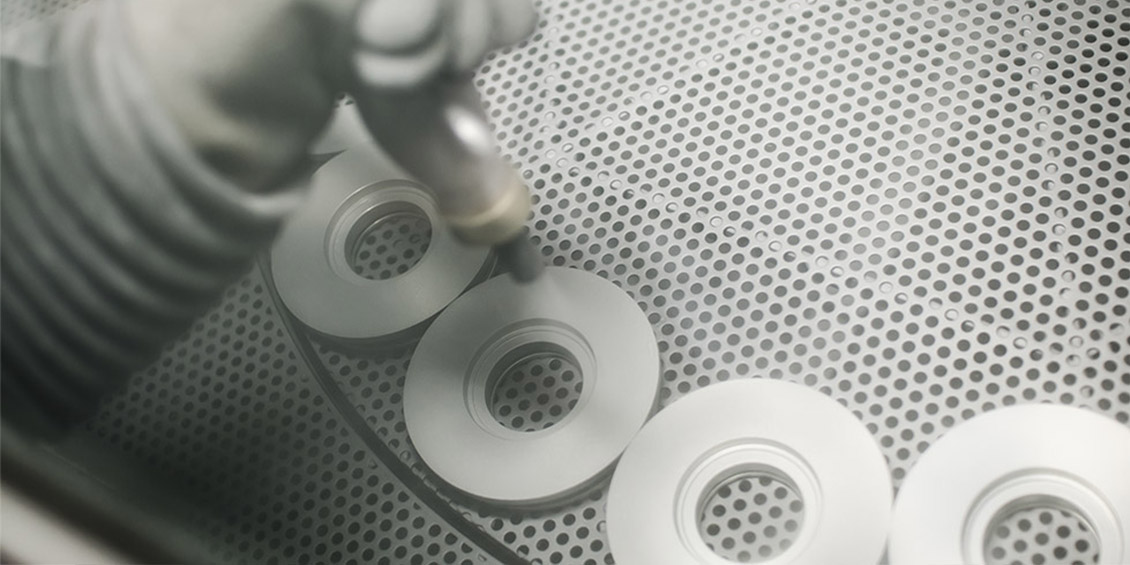 Preparation.
Sandblasting.
Manual or automatic sandblasting
The inserts are sandblasted by corundum,
to break the bonds and any surface film impurity also due to oxidation, that would prevent rubber to metal bond.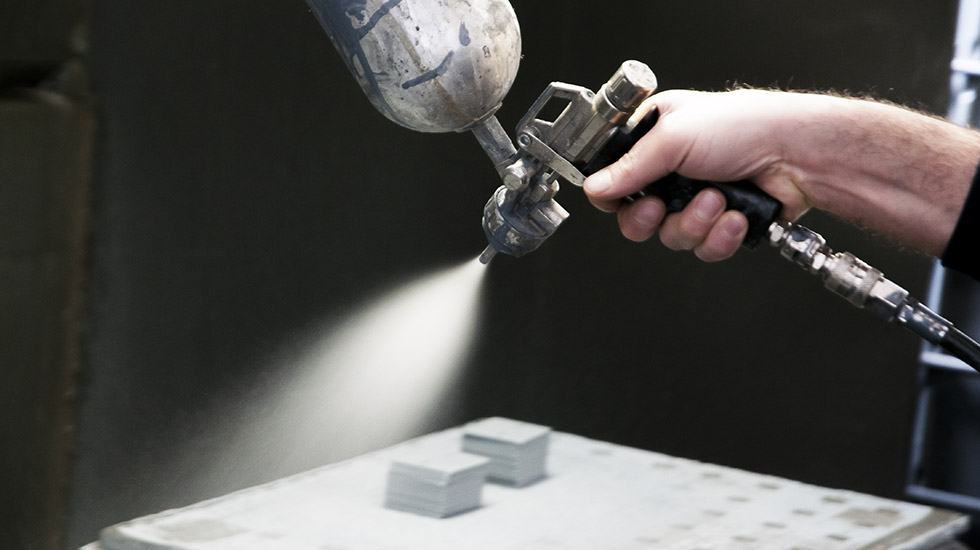 Preparation.
Varnishing.
By brush or spray.
Two different coats of special paints suited for promoting good chemical rubber to metal bond.
Rubber
Rubber preparation.
Mixing.
Rubber is mixed up and heated by means of cylinder mixers.
The friction generated by the different rotation cylinder speeds, causes a lowering of rubber viscosity favoring the accelerating system spread.
Rubber preparation.
Formatting.
LThe homogenous mixture is worked and preformed by a special piston machine which extrudes and cuts the rubber through a die.
Setting up the cylinder pressure, the die shape and the blade cutting speed, you can get different sizes and weights required for molding any article according to the draw, and minimizing rubber burrs in the molding phase.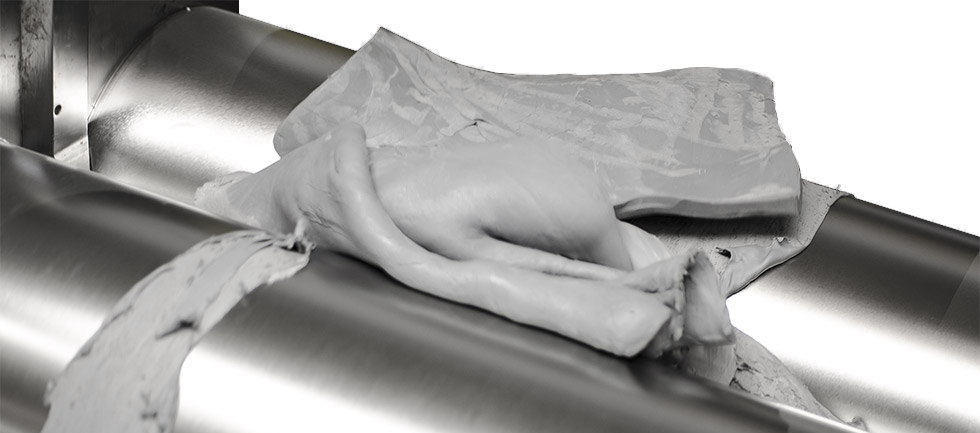 Rubber molding
Injection

molding.
Injection technology is used for large quantity production. This kind of machines allows the use of not-preformed rubber strips, loaded via a rotating screw and injected by means of a piston inside the mold.
This process allows to get articles with little or no burr at all. as the machine implements the vacuum before injecting the rubber into mold it reduces the scraps due to air bubbles to zero .
The injection machining cycles are much shorter than the compression machine cycles, since the rubber is preheated by the rotating screw, thus reducing the vulcanization time.
Compression

molding.

LThis technology is mainly used for medium and
small lots.

IThe compression cycles are longer than injection because rubber is not preheated, but it starts and ends the vulcanization exclusively in its mold at high temperature and pressure.

Burrs are mostly reduced due to rubber formatting.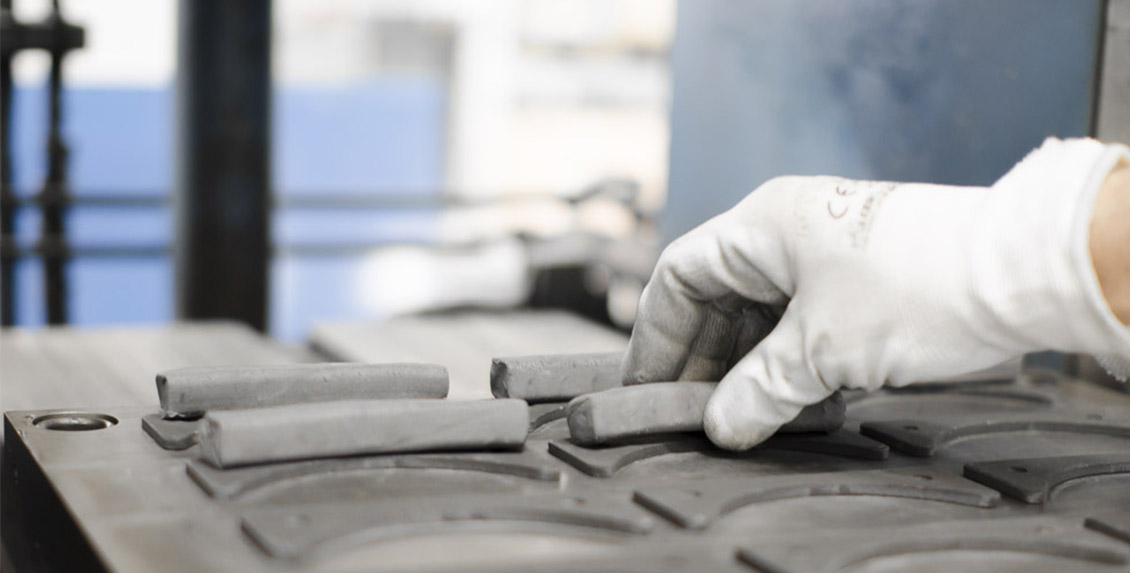 Injection-compression

molding.
The technology is a combination of the two mentioned above.
The rubber is injected into the slightly open mold, up to form a rubber coil.
When the machine closes, in the compression phase, rubber reaches the cavity of the mold and vulcanizes.
Comparing it to the full injection, the advantage lies in the cost of the mold: it is cheaper because there are no injection channels.
Anyway, it can be used only for articles not exceeding 1cm thickness.
Transfer technology requires a closed mold.
The elastomer is forced into the cavity by a loading piston through a feed channel.
Molds, consisting of 4 or 5 parts, are more complex than compression ones because, in addition to the air vents, they must be equipped with channels for compound feeding.
In this case, the piston forces the elastomer into the channels, urges it mechanically and friction heats the rubber.
Cycles are shorter
However, it is not a suitable technology system for the use of inner cores because when the compound wets them, at a certain speed depending on the pressure of the piston, it is likely to drag away the paint layer.
Final Cleaning
Final cleaning.
Grinding.
That is the last stage of processing.
It is often used to finish articles requiring very narrow dimensional tolerances.
Effegomma has got both surface grinding and parallel grinding.
We provides highly accurate technical rubber articles.
For example, our vacuum suction cups for reference planes or pantographs, can reach 0.05mm tolerance.
A difficult value to get, inside the world of rubber!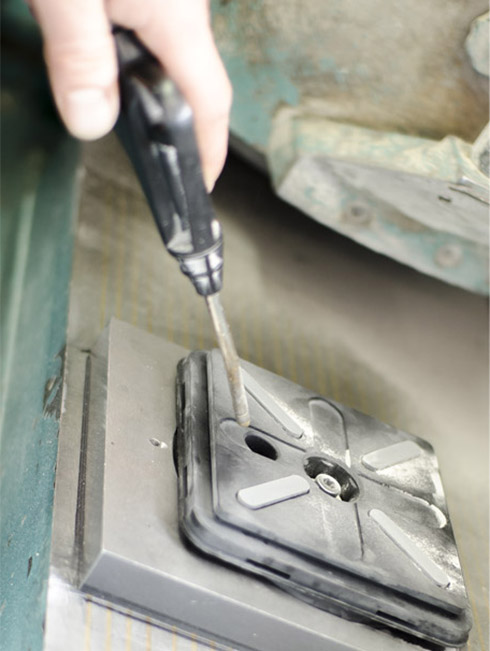 Final cleaning.
Deburring by means of liquid nitrogen.
Effegomma features a liquid nitrogen shot-blasting machine for the burrs and excess rubber cleaning.
The pieces are placed on a rotating, cooled drum "bombed" by grit.
Which blows off the burrs due to molding, so that you get a perfect cleaned article.
Such a machine is suitable for large and small items, wherever holes size are about 1mm diameter.
Controls
Final controls and
testing quality.
Effegomma carries out random checks on finished products in accordance with strict standards, by special tools we also perform "destructive" tests on several product families, such as wheels or plates to assess the quality and resistance product.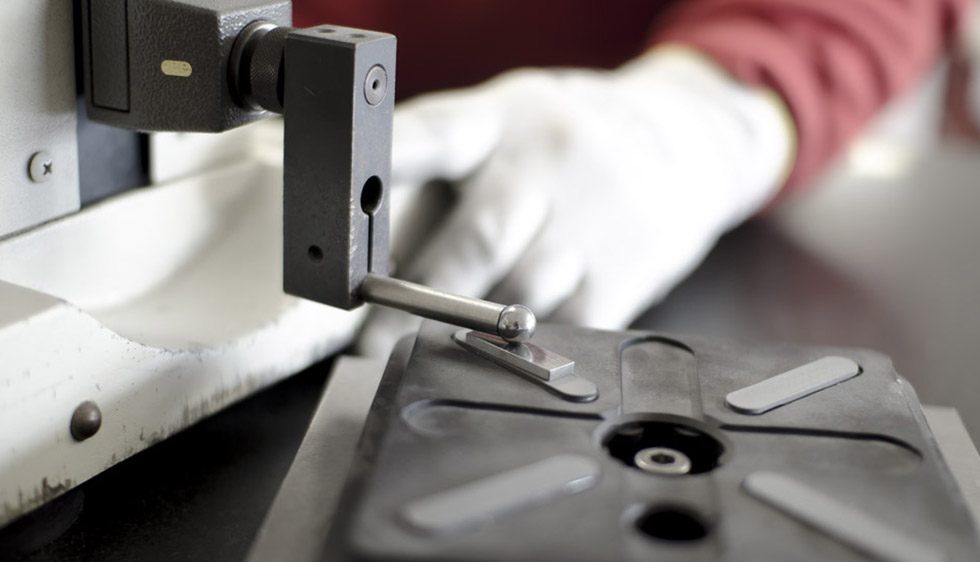 Controls.

Process control stages.
We've got an efficient quality control system, appropriate control tools, such as hardness testers and comparators, a planning management system well integrated to the production computer system, where we can always check: the draw of any item, processing cycles time, instructions parameters, motivations for scraps So we can keep under control every processing stage.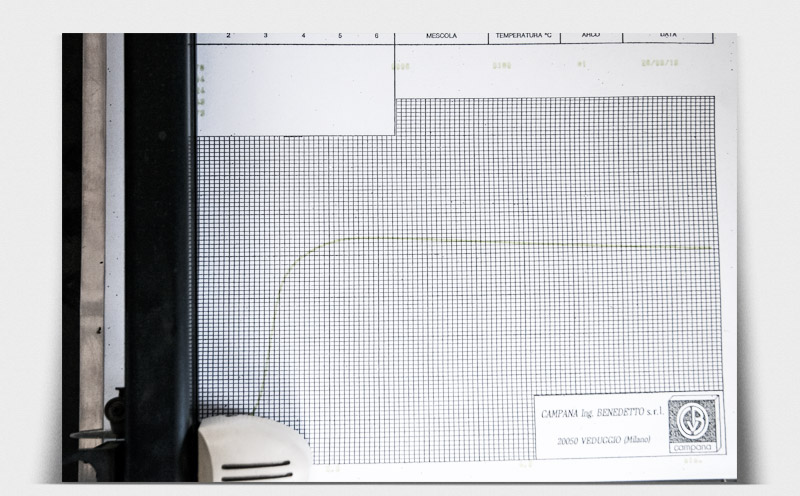 Controls.
Acceptance controls.
We've got a rheometer for rubber testing.
It provides us with a rheological curve (curve of crosslinking) to establish the cooking evolution of each kind of rubber.
>We've also got reference plane, as well as comparators and altimeters for dimensional controlling.
Special processing
Special processing.
Cold bonding.
Wherever special items are required,
such as plates or plastic-rubber suction cups, polyurethane head screws or any item that can not be molded due to any deformation which could arise during molding stage, Effegomma suggests cold bonding processing.
It involves the preparation of the contact surface, the glueing of the surfaces themselves, and an approximately 24 hours laying time.
This technique is ideal for small batches, or samples as it is possible to coat any itmes, and any shape without a mold.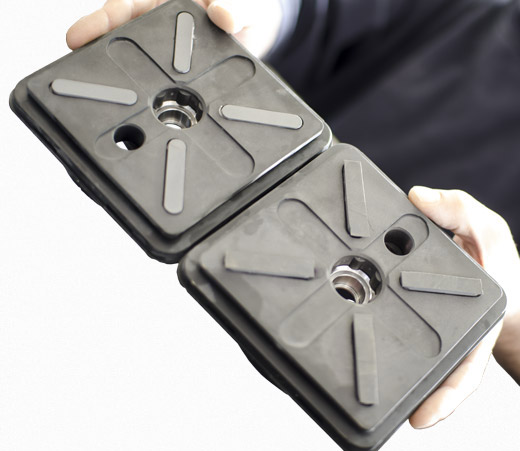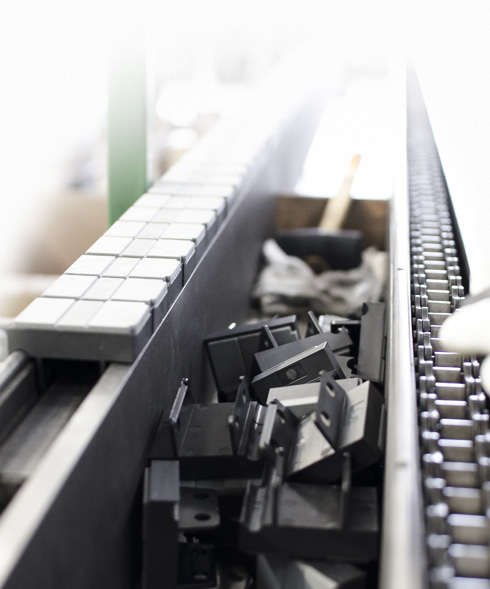 Special processing.
Different component assembling.
Effegomma also offers an excellent assemblying service:
For example we do assemble over 50 components, in our vacuum suction cups.
For example we assemble drag chains from 5/8" to 1" 1/4 inch up to 20m length.
We also manufacture vacuum suction cups for reference planes made up of plastic, rubber, metal, polyurethane.
Indeed, we are able to aggregate a great variety of materials with different chemical and physical characteristics.
Manufacturing and recovering
rollers and cylinders.
Rubber ring fitted on a pipe or a rod, is a very special process for roller manufacturing up to 2m length.
Effegomma has been using it for over 20 years, with great success, as this technology allows to to offer a high quality product at competitive price.<
In addition, our roller added value is given by the chance of replacing any broken rings, due to a misuse, in a very short time: about 10 minutes.
Thus reducing downtime of the machine.
We supply either complete rollers or just rubber covered rollers for third parties.